"Cali-Way EP: Is a soulful California vibe. It's grown & sexy and it makes you wanna cruise with the top down along the Coast and groove to the R&B jams. The single Cali-way will be on your go-to Summer playlist. Greg Scott's velvety vocal's on this EP is bar none in the industry. You'll wanna croon, make good good lovin' & go to the beach."- Skope Magazine 
BLOG BUZZ: Latest Interview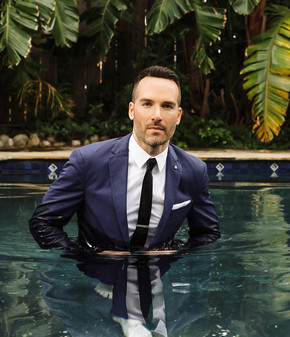 So we are so excited to get to chat with Greg Scott who has just released his 'Cali-Way' EP. Greg Scott is a multi-talented R&B/soul/Pop Singer/Songwriter/Producer and musician born to a musical family in Chico, CA. We got to get some time with Greg and he speaks on it all from being a father, the new EP, the suit in the pool press shot, and so much more.
Skope: Where are we talking from today and how was your summer?
We are in super sunny and hot Los Angeles, CA. My summer was crazy busy grinding with making new music for my EP Cali-Way! I've been working my regular gigs, making new music and raising my 2 little boys (1yr & 2yrs old) Jackson & Blaze.
Skope: How much of a role did music play in your life growing up and does your family support your ambitions today?
A huge role! My dad is a singer and opened for big acts in the 60s&70s.
He still plays till this day and will sit in with me when he visits at my residency here at Mastro's in Beverly Hills, CA. Its in my blood!!
You'll have to shoot me dead to never hear music from me. My family has been 100% supportive and i wouldn't be here without them.
Skope: When did you realize that you had a real talent & that music could be a career?
When I was about 9 years old. My Dad put me in a studio and had me sing a small part on his...

READ MORE CLICK HERE: https://skopemag.com/2016/09/19/skope-heads-west-to-hear-greg-scott-his-cali-way